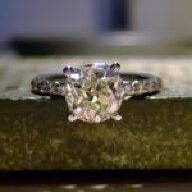 Joined

Jul 3, 2009
Messages

29
Hi everyone, apologies for another post like this - it seems to be quite a popular topic lately!
Here is our situation...My fiance and I recently got engaged, and happily, he and I are picking out the ring together!
I've had my eye on this JbEG cushion and am considering getting it for my engagement ring. You guys are so generous with giving posters feedback on stones and I was hoping you'd humor me with your thoughts as well.
I think this stone is quite dreamy. I love some warmth in a stone, particularly an old cut like this, so this one fits the bill, though it is a bit lower than I had initially considered - I realize I'll have to double check this in person if we go ahead with it....i.e. when I get my grubby little hands on it

!! The stone is uncertified, so the plan would be to take it to an appraiser to check it over, for insurance purposes, etc. In the meantime, I'm wondering, is there anything else that stands out - good or bad - that we should consider before making our decision?
On sort of a side note, we are considering taking it to Richard Drucker for the appraisal, since he is local to us - does anyone have any experience w/ him? Especially as it might pertain to a stone like this?
Thank you in advance - any thoughts and guidance you may have to share would be very much appreciated!
http://jewelsbyericagrace.smugmug.c...ique-Cushion/15778317_GF3mh9#1183104630_HaiKP