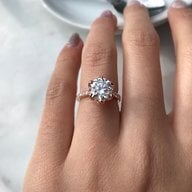 Joined

Jun 1, 2018
Messages

82
Hi everyone!
I am looking for a stand in for my engagement ring to wear for honeymoon and everyday. Let me start by saying that I have been so ruined and spoiled by
HPD
superideal diamonds and so far nothing else can compare.
I recently found out about this "super ideal" moissy and at least from the videos they look pretty good. But of course the vids are taken until the brightness of a 1000 suns so its a bit hard to tell how they will perform in real life.
I was wondering if anyone had some experience comparing the brilliance, depth and light return on your these two moissy brands AV/Distinctive and MoCo AGS000. Do they live up to their hype and how to they compare to your superideal diamonds?
Thank you so much for your help! I read some old posts and got some good information, but like a good pricescoper I need MORE! Pics if you can so I can drool over your beautiful jewelry.