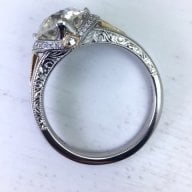 Joined

Oct 8, 2015
Messages

290
I would like to show all of you the OEC I finally purchased (from OWD) in the "temp" setting that Adam found for me (found kicking around in his shop, I guess. I assume he bought a ring, took the stone out to sell loose, and had the setting left over). I had told Adam my criteria for a setting and we both looked around some, and couldn't find exactly the right thing. He sent me a picture of this setting which at first I didn't love, then it started to grow on me. Eventually, even though it's not my forever setting, we decided to set the stone so I could wear it now, and in the meantime think about what setting would be the real deal for me. I do want to say I have nothing but love, love, love, for OWD and Adam who is a customer service KING as far as my experience goes. He is endlessly patient, methodical, answers all emails promptly, and exudes a desire to make sure his customers are happy.
The setting has some things I like. I'm trying to categorize them to help me figure out what setting to eventually end up with. The important things for me are: LOW profile--can't have anything sticking up high off my finger. Second, no pave or halos. I think the stone is big enough as is, and lots of tiny diamonds makes me nervous (I'll lose one and never notice). Third, I have big beefy hands and fingers, so a tiny delicate shank will not work. I like the face on view where the shank gets wider as it gets closer to the stone. This setting does all those things.
What is not working (I think, your opinions are what I'm looking for) is the size of the baguettes and emerald accents--too small next to a 3 carat stone, I think. But I'm not sure. Also, this stone looks amazing in so many different lighting situations and the baguettes seem relatively dead in comparison. I think any side stones I have, and I think I would like some side stones on the shank, need to be equally flashy.
I am just finding it so difficult to picture the perfect setting for me. So many halos out there (not for me), so many delicate shanks (not for me), and lots of stuff I find a bit too fussy. Even the setting I'm posting is a little too fussy, too much going on. Anyway I'm not sure what my question to all of you is, except: what do you think of the current setting, and do any PS settings come to mind that are low profile, no "flying saucer look" (big head on skinny shank), somewhat vintage looking, and all the other things I can't articulate but want very badly

Thanks for ANY input at all. I really rely on your expert opinions and good taste. BTW stone is 3.10, OEC, L color, VS2, 9.02 X 9.04 mm.