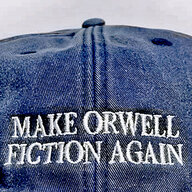 Joined

Apr 30, 2005
Messages

32,802
They stink.
I just went to a mall and visited 7 jewelers to get my finger sized.
I swear those sizer rings are not calibrated.
I had one place tell me I was size 8, 8.25 and another, 8.5 at another and 8.75 at another.
I know you have to take into account the width and we tried that too.
Then I tried to buy a cheap ring that fits (ignoring what size they say it is) and just send that to the ringmaker.
But I could only find sizes that were whole numbers.
ARRRG
This reminds me of shopping for shoes.
Sizes vary.

Does anyone have the diameter measurements for the sizes?
It seems the only way to do this is ignore the "size" numbers and measure the diameter and build the ring to, say, 0.684 inches.