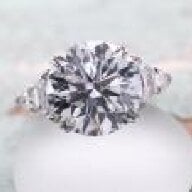 Joined

Sep 18, 2015
Messages

165
Re: Thinking of switching settings after only 6 months ... U
SO - I took a ride out to Joe Escobar - which was wonderful! - and they have a very inexpensive white gold 4 prong "presentation" setting (usually for guys who propose but want to let their fiancee come back to pick a setting) that suits my purposes perfectly. It was only $350 with no setting fee, and the $350 can be put toward another permanent setting within 90 days. Since they carry Vatche, this was a perfect compromise for me.
24 hours later, and my diamond is now a solitaire! Knowing myself, it's too soon to say anything definitive - but so far anyway, I am surprising myself and loving the solitaire! I never was interested in one before, but there's something so chic and classic about the look, and I love how it emphasizes the stone with the added height off the finger and the skinny shank. I don't know if I think the diamond looks any bigger, per se, but it definitely pops more and shows off the center stone a lot more. Maybe it's in my head, but I also feel like the open setting increases sparkle as well.
This is not to take anything away from my other setting, which I still absolutely love. And I get slightly nauseous when I think about it sitting sad and lonely in my safe with no center stone! But (for the moment, anyway) this simpler setting does feel more ... fitting for an engagement ring, to me. I kind of feel newly engaged!

So, so far so good, although who knows where I'll end up. If I decide to keep the current stone in a solitaire, the 5-stone is definitely begging for a colored stone in the center ... any suggestions?

Here are some comparison photos for those who might be having the same side stones versus solitaire struggle I did .... My finger is a 4.25, for reference.