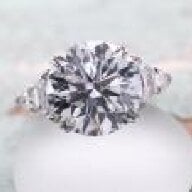 Joined

Sep 18, 2015
Messages

165
Hi all,

I think I'm the most indecisive person on the planet. Seriously. After working on my upgrade for almost a year, and having the completed ring for only 6 months or so, I'm thinking about changing settings already. Ugh.

My current stone is a lovely 3.23 carat MRB. (As background, I wore and then returned a 4 carat OEC for several months immediately prior. Before that, my original e-ring was a 2 carat cushion in an LM halo setting.) After much debate, I decided to set the MRB in a gorgeous 5 stone setting by CvB/LAD (who were AWESOME) with traps and bullet side stones. The ring is absolutely beautiful and the workmanship is flawless. BUT. I was not prepared for the fact that the 5 stone setting takes something away from the center diamond, to me at least. Compared with the 4 carat OEC solitaire and even the 2 carat halo ring I had prior, there is just much less POP or WOW factor from the center stone, which has been bothering me. A lot. Maybe wearing a 4 carat diamond around for a few months has just ruined me, I'm not sure. The diamond is also currently set rather low, which is great for daily wear but might contribute to the issue. What I do know is that I want to find a way to better emphasize the center diamond.

Any 3 or 5 stone owners out there who felt similarly? Does anyone think setting it as a solitaire might help? It's counterintuitive a bit, but I always feel that the Tiffany style solitaires make diamonds seem larger/more on display that a 3 or 5 stone ring does. If you went from a 3/5 stone to a solitaire, I'd be interested to hear your experience.

Alternately, maybe I need to go back to a halo. I've considered the VC Emilya - but was a little wary of the day to day wear and tear on the pave. And I prefer the "idea" of a solitaire to a halo setting, since I've already done the latter.

It's a dilemma. Thoughts/advice appreciated!