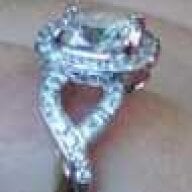 Joined

Feb 18, 2007
Messages

1,052
Ok, I admit it...I love halos, not only for the gorgeous look but I am attempting to make the center stone look bigger. I call it my bling-on-a-budget look.

I am currently working on the perfect design. My bf has purchased the cushion center stone from Mark Turnowski at Engagement Rings Direct and we love it. While I am wanting to add to the bling factor, I don''t want the ring to scream out my intent to make it look larger...I want the result to be more blingy but in a subtle way. So, I had considered a halo with 1 pointers. I think I will mostly want diamonds and sparkle to show from the top view(pave?)and not a lot of the platinum. I will want the halo to hug more around the girdle where it can be seen and not sit so much underneath the stone. I am also going to have a split shank with 1-pointers, as well, as I thought a delicate shank would make the center look bulkier; therefore, larger.
My question is...if you added a thin halo to your center stone, what size difference did it make? If you know the difference in millimeters, that would be great. I have seen some before and after halo pics on here that made a stunning difference. For example, my stone is a cushion cut, 1.31 ct, with a length of 7.13 mm and a width of 6.28 mm. If I have the setting made where you would mostly see the 1 pointers and not a lot of metal filler, how much extra millimeters could I expect to get?
My ring size is 6.5, my fingers are not that long, and I feel need some extra oomph to get the look I want. Plus, I have a very blingy emerald/diamond and a sapphire/diamond that I wear often on my right hand and that has got my bf nervous that my engagement ring won''t live up to what I am used to wearing. Let me also add that I don''t intend to wear a separate wedding ring with the engagement ring. I want a fairly severe split shank so it will have the look of two bands but be one ring.
I appreciate any suggestions, comments, and pictures you wonderful Pricescopers would be willing to share with me. This ring design stuff is more difficult than I thought it would be.