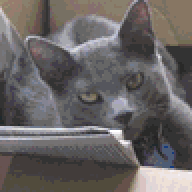 Joined

Jan 10, 2005
Messages

335
I''m so glad I worked from home today because the UPS man arrived before lunchtime and I was so excited I almost kissed him
hehe
Of course I flew right to the phone to tell Nate that the stone had arrived and he had to have a little fun at my expense, telling me I''d need to wait until he got home from work to open it!
Luckily, he''s really not that mean, and he let me open it without him although I was told I couldn''t study the stone until I had emailed him a lot of pictures first hehe
As soon as I cracked open the ring box I was in love. I believe the first words out of my mouth were "holy crap, it''s huge"
hehe I spent the next few hours trying to get decent photos and emailing my mom and friends to let them know the good news. I know telling everyone about the stone may be jinxing things a bit but for years now they''ve been bugging me about an engagement so I HAD to tell them as soon as I had some real news
It still doesn''t even seem possible.
Even worse, it has to be sent back to the vendor to be set and then I have to WAIT for Nate to actually propose. At least I''ll have photos to hold be over until then
I''ll try to post some photos over in SMTR and I''ll put a link here in case anyone is interested.
Woohooooo!