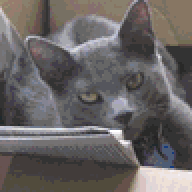 Joined

Jan 10, 2005
Messages

335
OK, I was really afraid of posting about the stone I currently have because I was certain everyone would scream "Run Away, Run Away" as soon as I revealed the clarity but so far there seems to be a lot of positive encouragement so I''m willing to lay it all on the line.
* For those of you that don''t care about the drama, you are more than welcome to scroll right down to the pictures
*
Heidi and the Stone: Long story short
The boyfriend and I are about 5 days away from permanently owning a 2.01 ct G/H I1/I2 Ideal cut RB.
Heidi and the Stone: The long story
I have pudgy fingers and I love a good bargain so I went in search of 1.5 ct + stones that would be both beautiful AND as big as possible.
Thanks to the pricescope search engine, I came across a GIA cert''ed 2.01 ct H/I2 whose inclusion plot seemed promising and whose price was Oh so very right, so I contacted some vendors to find out more information.
Pretty immediately I was told the stone was unavailable...bummer but no big deal as I had not yet seen the stone. I would be given an update within 24 hours.
That Wednesday I was informed different things by different vendors, some said the stone was unavailable, some said the stone was sold, and only one gave me the honest truth: "They (the manufacturer) submitted the diamond to EGL-NY and got a color/clarity grading of G-I1. They intend to sell it with the EGL Cert and the price will be recalculated (higher)."
So obviously, what would have been a phenomenal deal had suddenly become a decent deal: Blow one to my bargain loving self. I handled it in a very mature fashion by whining to the vendor and vowing never to buy any diamonds from the greedy manufacturer in the future. I mentally marked the diamond off my list of prospects and moved on.
About 7,273 pricescope searches later, I began to realize that even at the higher price, such a well cut stone in that price range, being touted as "super eye clean", was pretty rare. I swallowed my pride and contacted the vendor again to ask if he might pretty pretty please check to see if the stone was still available and perhaps take a closer look for me.
Luckily he''s a forgiving sort of fellow, and he had the stone in house within a matter of hours (I''m still not sure how he pulled that one off...color me impressed). Unfortunately, I''ll admit, I was a bit turned off by the photos when I first laid eyes on them. Lo I was naive and green where diamond buying was concerned. Once again I turned my nose up at the stone, partly on principle for the price hike, partly in fear of the inclusions. And then I went on a romantic Valentine''s trip to Las Vegas baby!
Of course while in Vegas, I couldn''t help but think about the 2 ct stone...what if it was the one that got away? The horror!
The following weekend Nate and I got into a discussion about clarity...me saying "bring on the I1/I2", him saying "you''re not going to like the inclusions, I know you."
That discussion is what landed us at a local jewelry store in front of a microscope looking at various types of clarities. Unfortunately while the store is well loved in this area, I found their merchandise lacking. I knew there were some horrible I1s out there, but I''m beginning to think this is where they''re stock piled. I was very afraid that Nate had been completely turned off by the inferior products.
And then, a few days later, I was once again contacting my vendor to check on availability (I swear that man is halfway to sainthood just in dealing with me). On Friday, March 2nd, Nate actually plopped that little beauty in his online cart and checked out. Our vendor called on Saturday to check in and let us know he''d be contacting the manufacturer on Monday.
Monday I received a frantic email from my vendor: "Have you put this diamond on hold with another vendor? If yes, please release so that we can have it sent to us for your processing." and as I''m sure we can all guess by now, I had NOT put a hold on the diamond. I was later informed "Manufacturer will know status on Wednesday."
Ahh yes, what is more enjoyable than a 3 day wait when you''ve finally made the decision to purchase? Fun times!
We''ll skip right past all the stress, tears and freaking out and move right on to Thursday, March 8th, the day the diamond finally arrived at our house.
Since Nate isn''t a total meanie, he allowed me to open the diamond without him, provided I take tons of photos and send them to him *before* I was allowed to study the stone.
Heidi and the Stone: A first meeting
My first reaction upon opening the box was "Holy crap, its huge!" From there I noticed how easily I could see the beautiful arrows and the sparkles of light dancing across the facets in the sun. Even the whiteness of the stone was a pleasant surprise as I didn''t expect a G (EGL) or H (GIA) colored stone to be such a bright white. It honestly took me MINUTES to find the inclusion the first time as it is so well masked by the cut.
Of course it has become much easier for me to locate the main blemish and that''s where my hesitation lies. Perhaps if it wasn''t so well cut, the inclusion wouldn''t be as bothersome as it wouldn''t break 2 of the 8 amazing arrows. As much as I know that no one but me will ever notice the inclusions, I feel bad that every time I look at the stone, I''m automatically looking for the inclusion, not just admiring the beauty. Perhaps it''s just a matter of being overly critical while the return period is still an option and it''s quite possible that this would be a non issue once I''m locked in. I''d hate to spend the rest of eternity WANTING to love this diamond but I''d also feel horrible to later regret missing out on such a great purchase. I am definitely torn.
Heidi and the Stone: The Stats
Original GIA certificate
Carat Weight:
2.02
Color:
H
Clarity:
I2
Depth%:
61.6
Table %:
55
Symmetry:
X
Polish:
VG
Girdle:
TN-M
Culet:
N
Fluorescence:
F
Measurements:
8.13x8.17x5.02
Cut Grade:
Ideal
Newer EGL certificate
Carat Weight:
2.02
Color:
G
Clarity:
I1
Depth%:
61.5
Table %:
54
Symmetry:
VG
Polish:
VG
Culet:
N
Fluorescence:
F
Measurements:
8.13x8.18x5.01
Cut Grade:
Ideal Plus
Heidi and the Stone: A Love Affair in Photos
Here we go...