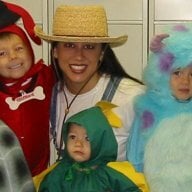 Joined

Mar 11, 2003
Messages

36
This forum has been immeasurably helpful to me and I''ve enjoyed following the threads & seeing the photos of all the prized diamonds here, so I thought I''d tell my tale and send in a few photos of my own. For all you guys who aren''t sure about how to propose, please read my fairy tale proposal (to me, anyway!) and see if it provides any ideas for you...
I''d been crawling out of my skin w/anticipation, wondering when I''d actually have my ring on my finger, in my possession, to have & hold until "car wreck by diamond distraction" took place. But alas, no ring cometh! And of course, since my guy is a "guy''s guy", who makes an attempt to tolerate my need for shopping & pedicures (not during hockey games, softball tournaments, or a good card game, mind you), I certainly didn''t expect a big fanfare. Then one evening, on a pretty regular Sat night, we were to be picked up by another couple to have a pretty regular dining experience. I was told our guests were waiting for us in the driveway, but lo & behold, their two door sports car had turned into a white stretch limousine, complete w/a very professional, tuxedo-clad fellow, holding open a door, and beckoning my entrance. No other couple in sight.
As I sat on the plush, deep seat, I was handed a beautiful gift bag which yielded an even more beautiful leather bound album. The album was a carefully crafted time line of events, each page marking the date of one of our more memorable occasions or meetings with each other, complete with a photo or sketch of something significant of the date and loving commentary under the graphic. After the reading of the book came "the proposal" (this touching speech to remain personal), and finally, I had my beautiful diamond on my finger. You''d think that was enough, right?
During the excitement, I hadn''t noticed we had pulled up in front of our favorite decadent bakery (yes, one of the noted events in the album did cover a previous date at this location), and we had more fine pastries packaged up to go than we could ever eat in one week. The next secret location was dinner at (you guessed it) the site of our first date. Luckily (or perhaps planned from the very beginning of our relationship?), it was a fabulous restaurant, quite worthy of the evening''s events. As I was shown to our table, I recognized the familiar faces of all my family members waiting there for our arrival. You''d think that was enough, too, right?
After a wonderful, congratulatory dinner with my family, the fancy car and driver then whisked us away to what I was told was home for the evening. Until he took a "wrong turn" and pulled into a charming neighborhood where friends had lovingly decorated their beautiful home in our honor. As the door opened before me, I was again moved to tears as I walked in to a sea of many familiar faces again, friends, family, and future wedding party members standing there with smiles and love in their eyes. Needless to say, I felt the evening was a smashing success.
Maybe someone can pluck an idea or two out of that, but if not, that''s okay, I had fun telling my story. Following is pic #1; I can''t seem to get the focus on the camera just right, but you can sort of get the idea. Good luck to all those about to take that plunge!