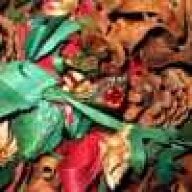 Joined

Jan 11, 2006
Messages

2,876
Ack! I Hit enter too early! Selkie's pro pics is the rest of the title.
I heart my photographer! She put the proofs up online three days early. So, continuing my thread from earlier,
\"Perfect Storm,\"
here are more pics and the full story.
We met sailing on a wooden tall ship, so we wanted to get married and have the reception on a sailboat. We chartered a schooner in Gloucester, MA, which is near where I grew up and my parents still live. Of course, having grown up in New England, I knew we needed a rain plan. We're pretty hardy types and would go out in almost any weather, but figured our guests would appreciate being able to stay warm and dry. We booked an inn which overlooks Gloucester Harbor for the whole weekend, and our families and some friends stayed with us. We also arranged to have the inn be our rain location.
This was the inn, and the view from it. It's an 1845 mansion. You can see why Gloucester is a popular place for artists.