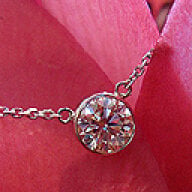 Joined

Oct 30, 2002
Messages

31,003
Cindy from NewEngland Gem posted a few days ago about all the technology that was available to the consumers now and she said something that I had actually already been thinking about..which was...will the day come when cutters will no longer cut a bad gem?

So I post this question to those in the trade...what are your thoughts on the future of diamond cutting, taking into consideration the new technologies that pop up year after year...and thinking on how far the industry has come since the early 1900''s when Tolowsky published his little book.

Will there come a day sometime soon where all stones are cut not to maximize carat weight, but instead maximize the beauty of the cut, where all stones will be SuperIdeals similar to the A Cut Above stones with 99.9% excellent light return and perfect hearts and arrows under every viewer? What will these perfect stones be worth, less than a SuperIdeal is today? Or more for the perceived value? If it is more, what does this mean for the general buying public?

If this happens, what will happen to the stones of yesterday, stones such as mine...the AGS 7''s of the diamond world which do not display hearts nor arrows nor have a perfect IS image? Will they become more valuable for their imperfections, or rather will they become those stones that cutters will itch to get their hands on in order to re-cut to the perfect ideal standards of the future?

It is something I have been thinking on and Cindy''s comment in a recent post struck me...so I want to know what others think. Most specifically those in the trade who work with these stones daily and know what goes on in the back rooms with DiamCalc, all the ''Scopes'', the ''minor facet'' discussions, etc etc. But if consumers or those of us who have taken a keen interest in the vast world of gemology wish to respond as well with their thoughts...go for it!