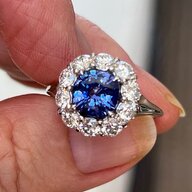 Joined

Aug 18, 2013
Messages

6,859
Sharing my great grandmother's engagement ring. Finally got to see it again yesterday (after almost 2 decades) and I took some photos.

I adore and wore this ring in my twenties (30 plus years ago) before I got engaged. My mom has it now and keeps it unworn in her safe and I'm glad I got to see it yesterday and share pics with you guys. This was the beginning of my love affair with old cut diamonds before I even knew what old cut diamonds were. No other piece of jewelry (except my mom's (at that time) opal ring) spoke to me like this piece did. And even after all my knowledge re old cut diamonds I still adore this piece. Hope you enjoyed seeing pics of it as much as I enjoyed sharing them.
Ooooh
@missy
! Seeing that lovely ring suddenly brought tears to my eyes - and I'm not even sure why. Reminds me, I suppose, of all the best parts of having an engagement ring. And what a truly wonderful example of a ring with history and an antique cut diamond! I'm so glad you shared this special piece.