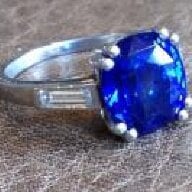 Joined

May 15, 2013
Messages

10,535
"The state of flow happens under
very specific conditions..."
Jeweller Alistair Kelsey created two
beautiful rings for me. I love the
fluidity of both rings and I am thrilled
to see them in real life. The zircon by
Chris Auletta and the tourmaline by
Doug Menadue look fabulous in Alistair
Kelsey's designs.
I discovered Alistair Kelsey because of
the rings he created for PSer Pyramid.
His aesthetic eye is amazing and he is
great to work with. I am amazed by
the quality of his handforged work. His
pricing is super reasonable.
It was already getting dark when I
collected the rings, so I made some
photo's in the train under crappy light.
Will make some photo's under daylight
tomorrow.
Thank you Alistair Kelsey for creating
these stunning rings. Looking forward to
work with you again.
First the glamour pics by Alistair Kelsey: