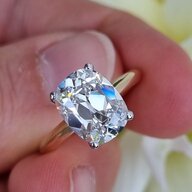 Joined

Jun 30, 2015
Messages

881
Hi all!
I know this question has been asked over and over, but I have a slightly different take on it and would really appreciate some input! (or maybe a link to where this has already been discussed)
I will have my J color cushion reset (as soon as I decide on a setting..!!). It's currently set in a 18 k red/rose ring and I don't like how the gold is reflected in the diamond looking at it from an angle. (should have listened to diamondseeker's advice in someone else's thread.) And so now I am considering:
1. red/rose gold band with platinum head, or
2. All platinum.
I would love to hear what you would do considering the J... Is it a good idea to put it in a setting with mixed metals or will this actually show the color more than in a plat setting?
Decisions decisions... Just a note, the reset is not simply to change the metal, I will change the whole ring. I am not changing the diamond.
Thanks for any advice!
And I hope you are all having happy holidays!
//
aca