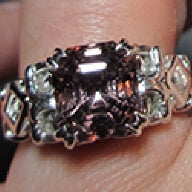 Joined

May 1, 2011
Messages

248
Well... almost!
My first two spinel purchases arrived today and I was like a kid in a candy store when I saw the envelope!
No, they aren't some magnificent precision cut stones, I'm not quite there yet, but I DID figure out what I want for my E-ring, now I just have to find the size.
I've gone back and forth from lighter to darker stones in just seeing them online, but after receiving this little guy today, and actually seeing the light versus dark in my hand.... I'm hooked. At a mere $3.26, (and even an SI 1) I've confirmed at the very least that I love the pale lavender/silvery shade.
I've got 4 more coming in various colors but was always wondering if a pale mint green exists?
I'd like to see that too and I'm afraid that the ones I've seen are just white/clear with a cast from fluorescent lighting maybe?
Anyway, nothing incredible about this for the major league players here, but thought I'd share in case anyone knows or sees something similar that can be re-cut for a 7-8 mm asscher. (I'm still in touch with Jerry and spoke to him today... he's looking for me as well)
http://cgi.ebay.com/ws/eBayISAPI.dll?ViewItem&_trksid=p4340.l2557&rt=nc&nma=true&item=220781101784&si=ioLPAyYVECTThHZC5rSNuxKJr%252Fc%253D&viewitem=&sspagename=STRK%3AMEWNX%3AIT
It's crazy to be so excited over a little- not so perfect but beautiful sparkle. *swoons*