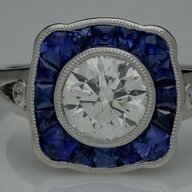 Joined

Nov 1, 2007
Messages

3,254
I have bought a lot of nice jewelry items on Ebay. To me Ebay is a flea market and I am buying for pleasure. So unless it is an unbelievable item I do not want to pay more than 10 to 25% retail because I don't need the item and eventually that great deal comes along.
Here is my detailed
and lengthy
tutorial for anyone interested.
I look for the same type of seller that
@stracci2000
does. A seller who does not really know the retail value of the item they are selling, or a seller who combs estate sales and is hoping to make quick and relatively small profits on their finds.
I only buy from US sellers. I set my search settings under different categories depending on what I am looking for. For example- when I searched for old mine cut diamonds I searched under "antique" or "vintage" diamond for the best buys. I would choose 14k to 22k gold and platinum and avoid the lower karat gold items for diamond jewelry. Sellers who know what they have charge more so I would like to buy from the seller who doesn't know what they have before another buyer does. I search only under "used" to avoid the jewelry store sellers.
I always chose the category of "fine" jewelry and narrow it down from there under rings, pendents, etc,. Then I set how much I want to spend. That can be tricky because if you set your beginning amount too high to avoid the junk you might miss out on auction items that start very cheaply. If you are looking for diamonds they are almost always cheaper set in a ring than loose.
Enlarge the seller pics and add contrast to see what flaws might be in the item you are looking at. Look at the weight of the item if it is listed. Ask for more pics if you are unsure. Never spend more than you are willing to lose on a no return item.
Spend a couple hours going through all the listings on your new saved searches. Watch the items you like because many sellers will reach out to you and offer you a discount.
After that initial lengthy search you will only need to daily check the "new listings" under your chosen search criteria. That should at most take only a few minutes daily.