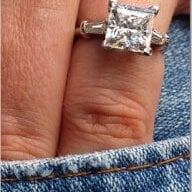 Joined

Jan 26, 2008
Messages

578
Date: 4/8/2009 10:58:37 AM
Author: Starset Princess
I agree. I'm tired of the dramatic letdowns, too, but just to be fair he has stated over and over again that he's not pulling me along for even one second. He's the kind of guy that takes two months to buy a tv. He has been giving it a lot of thought. Maybe even considering saying yes, but when it comes right down to it something inside him won't let him make that decision - whether it's fear, gut instinct, or self doubt.
You know what, Starset? YOU ARE NOT A TOUGH DECISION!!!! You are an absolute treasure, and when the blessing that you are appeared unexpectedly from heaven, he treats you like a...a..."decision"
No. Sorry, Mister. But there is no "Consumer Reports" magazine that will give you a star-rating on a future with an incredible woman who was so obviously prepared to make your life 100x better than it ever has been, or will be. It ain't like the 50" plasma, dude. Sorry. It's just not that cut-and-dried. These are the feelings (and future!) of a sensitive, intelligent, WOMAN we're taking about here. Not paint for the den, bro.
With all due respect to the gentleman in question and to your former relationship...he boned it, girl. Big time!!!!
You can do better. You WILL do better. There will be tons of guys who love you, it's just going to be about YOU choosing HIM, not the other way around