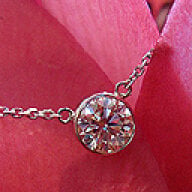 Joined

Oct 30, 2002
Messages

31,003
wow that peanut butter chocolate cake looks great!! i am totally craving now hehe.

great looking cakes!!

mrs mitchell i will try to look for the tip online and post it if i find it. i just know it''s uber giant!!!

i havent baked ANYTHING but boxed ghiradelli brownies since the baby came...it''s SO SAD! plus i just went back to work so now i really have no time...BOO!!

but that pb cake. yum.