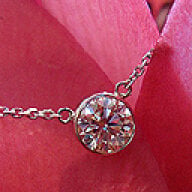 Joined

Oct 30, 2002
Messages

31,003
Okay since we were booted out of WWT with our non-healthy cupcake talk....and cupcakes seem to be taking over the world, and I am on board entirely with that as a fabulous idea.....here's a thread to discuss CUPCAKES (and maybe cakes and the like too)...making, baking, decorating, pictures, buying, eating, drooling...whatever.

We love cupcakes.

To start...here are the ones I made 2 weeks ago...Billy's Vanilla Vanilla Cupcakes made MiniStyle with Lemon Buttercream Frosting. Recipe from Billy's Bakery in NYC, competitor to Magnolia Bakery!! Supposedly Billy used to work there and then went off and did his own thing and whala, success.

Recipe on cupcakes from MarthaStewart.Com and Buttercream was adapted on my own. Yummy!!!
I am laughing at the slightly flattened deformed frosted one right behind the main one..lol. I'm still learning about piping.