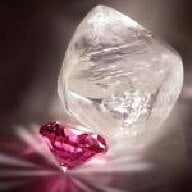 Joined

Jun 6, 2011
Messages

995
Hi, I wanted to run a poll to see what respondents think of the
coloured
stone E-rings they received or designed. I wanted to know how people perceived the way they received their Engagement rings and what they would have done differently if they could.
The purpose of the poll (anonymous or not) is to determine which way you would have liked to have received your E-ring, if you could have made a choice at the time.
Pardon the phrasing if it is inaccurate, but just choose the closest approximation. I have an inkling which way the polls will go in PS, but would be interested to find out how exactly people feel.
Sorry for the longish poll options - i wanted to be concise but accurate. Do shout if I missed an obvious alternative option. I'm running another poll for the diamond crowd over on RT, just to see if there is a different E-ring mindset.