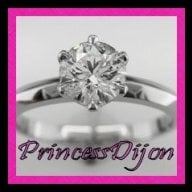 Joined

Jul 7, 2008
Messages

1,389
Hello all!
I was a lurker for only a few days now and stumbled upon this AWESOME forum when looking for ideas to ....gasp....propose to my boyfriend.
No, I am not just going on a whim to the jewelry store around the corner, grab a ring and ask....I''m going to do it just as great, thought out and respectful as if he was doing it for me.
This will be my second marriage for me so, yes I was a Lady-In-Waiting the first round (and technically now I am) but even moreso the first time. I got a nice proposal but unfortunately, the marriage didn''t work out. But when one door closes, another opens and I have now found the REAL love of my life and I am thrilled at the prospect of being with him forever.
So, long story short we have been together 6 months (yes it''s short) but we have cohabitated since the first month of dating...Plus I was working with him 8 months prior to us dating....Anyway, today, I actually made the first step and typed out, revised, typed out, revised some more, and basically I sent a sort-of formal email to his mother and stepfather asking for their assistance in creating the "prefect proposal". I am all about family involvement and he hasn''t been home in about a year (we''re both from out of state....and two entirely different states at that....lol. However, I think they know him best so, I want them to help me in all of this....
I know there is quite a bit of skepticism about the "modern proposal" however, my boyfriend and I have talked about both ways, plus extensive "talks" about marriage and he is comfortable either way and doesn''t feel "robbed" if I propose.. So, I would like to come on here and share the journey with you ladies and gentleman since there aren''t a whole lot of these stories out there....I am planning to do it 4-6 months from now, just as a rough time frame....
So, here I go...thanks for being here!
PrincessD