Mark called and introduced a new stone to me:
1.51 ct G VS2 Antique Cushion
Depth: 68%, Table 50%, Polish/Symmetry = Excellent/Excellent, Florescence = none, Culet= Large, Ratio = 1.00
Price: $10,350 for stone + $2600 for setting = $12,950 Total
Pro: G Colored, double Excellent on polish/symmetry, and perfect 1.0 ratio.
Con: Stone is slightly pricier which would force me to go with Mark on the setting too if I wanted Mark's stone when I like Leon's setting more.
Heres is a picture and video of the stone: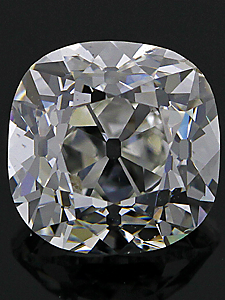 http://www.youtube.com/watch?v=7KHaMOZXWD0
How do you think this ring compares to Leon's stone + setting? Its down to the last 2, LEON VS MARK!

By the way, I have not seen this stone in person but from the picture, it looks decent.