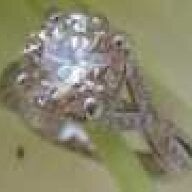 Joined

Mar 31, 2007
Messages

485
I saw this in person and OMGOSH... the brilliance and the fire!
we looked at it through a 10x loupe and the feather is hairline and is VERY eye clean.
they gave me a copy of the EGL cert..
I just don''t know much about the proportions so can someone translate this..


1.61ct.
RB
color D
SI1
graining - nil
7.75-7.68 x 4.51mm
total depth - 58.5%
table width - 60%
crown height - 14%
pavilion depth - 43%
girdle thickness - thin, faceted

finish
polish - good to very good
symmetry - very good
culet - none
flourescence - none

comments:
PREMIUM CUT - the proportions of this diamond are within the tolerance of those of the Premium cut,
thus achieving a harmonious balance between proportions & the display of brilliance.