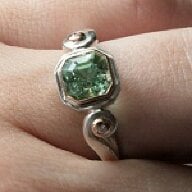 Joined

Apr 16, 2009
Messages

515
I have a tourmaline asscher (I'm obsessing about this stone/ring lately - sorry) that developed a stress fracture during cutting. It made it through setting just fine, and I've been ok with the fracture. I don't know if I'm crazy or what, but it looks like the fracture has grown or a new one has developed or something. I haven't even been wearing the ring this week. This is the first time I've put it on since Sunday. I haven't bumped it or anything that I'm aware of, and I'm very aware and paranoid when I wear the ring. I did clean it this afternoon with soap and my toothbrush under warm water. Maybe water got in the crack and is making it look different? To me it looks like there is a fracture near the culet now. I can't tell if the original fracture that looks close to the top is just a reflection of the culet one and has been there all along.
Anyway, please tell me what you know about tourmaline - hardness, ease of damage, stress fractures, etc. TIA.
BTW - I don't loupe my jewelry so this is all what my eye is seeing. Here's the vendor picture. It shows the original fracture better than any pictuers I have.