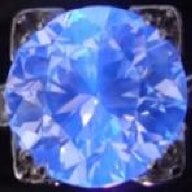 Joined

Apr 26, 2007
Messages

8,087
As more and more of us get interested in old stones, I figured it might be nice to consolidate some of the old threads on the topic, and to organize some of the collective wisdom on the topic. What do we mean when we say "checkerboard" vs. "snowflake" vs. "flower patterned?" While we all know buying fancies on the numbers is a fool's game, once we fall in love with certain stones, can we use the numbers to best define them?
On the latter count, I found the discussion of LGF facets in this thread fascinating:
https://www.pricescope.com/community/threads/what-cut-is-this-rb-or-transitional.106881/
; in it, Karl posted some really illustrative images of how different LGF percentages could affect the look of the stone (table copied and pasted below). Or, this table, posted by DenverAppraiser and a couple of other folk to give some basic predictive guidelines on how old cuts might be expected to behave:
How 'bout y'all - any particularly informative tidbits you'd care to share?