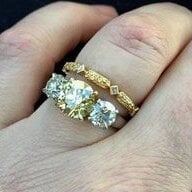 Joined

Mar 27, 2016
Messages

825
During my most recent trip to the appraiser's office, one of my stones was identified to have a chip in the girdle. He advised a recut/repair.

1) how much should this cost?

2) How easy is it to chip a stone? I can't imagine how I could've done it since a) I've totally babied the piece b) it's in a largely protective setting.

Tell me all about it.