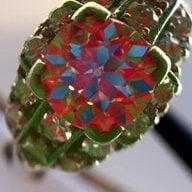 Joined

Feb 14, 2014
Messages

2,582
A few months ago while making my pawn shop rounds, I came across this nice large OEC in a modern cushion halo setting with pave half-way down the shank and a soldered-on matching pave band.
The stone itself measures 7.5 x 7.3 x (undetermined due to setting). I am no gemologist, but didn't see anything internally with a 10x loupe. Frosted girdle, pretty even all the way around – medium? I spent a lot of time with this ring and at that time they pretty much told me I could get it for 6k. Being that is a lot of money for an uncerted unknown quantity.
And… I am NOT a gemologist, but would venture this stone – due to the giant pillowy crown – easily weighs over 1.75. It is pretty warm – maybe L-N? It seems (to me) very, very loupe clean. VS for sure.
Trying to do comps is hard (not fair) because I'm not comparing known quantity to known quantity. Still, looking anything from 1.5 to 1.7 carat GIA L-P, VS1 to SI1, for the STONE ONLY (not rings), the (retail) price is within a tolerable range. It could be a VVS… I didn't look at those.
This ring, I could probably get them down even further, because it's been there for a few months after the 6K they readily intimated that I could get it for back then (25% off marked). They now say they want to move it before year end. Obviously the sales guy won't get any commission if it goes to the diamond exchange and the setting gets scrapped.
Here's some of my hesitations (other than trying to convince hubby that getting me another diamond ring will stave off me wanting another one in several months…) (he's totally like "buy it, use the vacation fund")
a. I don't particularly love the setting (which is part of the price) and it doesn't fit anyway (size pinky), so I'd either have to size to wear now, or get a new setting;
b. I won't know the known quantity until dismounting the stone and sending to GIA, which would come back after the return period - and I'll still have this mounting that I don't want/need;
c. I got a "new" transitional stone one year ago that is 7.13 mm (but no pillowy crown) (which I do love) and hubs (and I) have considered that this stone won't be "big enough" (0.3-0.4mm bigger)
Should I keep looking/saving and buy a different preloved, certed stone from one of the PS recommended vendors (there is one I've drooled on, that I would LOVE to have, if I actually had 4K more…) or should I make an offer of 30% (or more) off this one to get it and take chances that it comes back in the estimated range?
Here are some pics. Not sure how to load a video, but I have one of those, too.