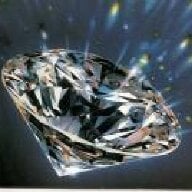 Joined

Sep 30, 2010
Messages

570
Hey everyone,
I just pulled the trigger on a large oval.
I initially wanted the Distinctive Gem heritage oval, but for the dimensions I want (4ct), I need to go up on the carat size by 1.5cts, with lower color and then, if I lower the size dimensions, it is still over $20K more as a lab grown diamond. For reference, this would be more than twice the cost of the stone below.
I'm considering lowering my desired specs and size to obtain one because of their ideal light return, compared to regular ovals, especially because it's an antique cut.
I already own a 2.44 ct RB cut by
BGD
(faces up like a 2.7ct), so I'm used to amazing light return.
However, I truly wondered if it's the most financially sound decision to go with a DG oval. It just makes it hard to swallow and justify to my boyfriend. (Rhino has been great with communication, by the way)
We don't have a set budget right now (just getting an idea of expectations), but we are looking for the best deal or bang for buck, with all things considered.
So, when I went on a search to compare the spread of a DG lab grown oval to a regular lab grown oval, and stumbled across this oval. It seemed perfect for both specs and budget.
We were not looking to buy right now, but felt it could be a good deal that we may miss out on.
I know we have to see it in person, and it's on the way, but I'd love your help in what we have so far. There's a 60-day return policy, so we have time to see if the light performance is something we (I) can live with.
Specs:
4.0 ct
F color
SI 1 clarity (imperfections on periphery)
12.32 x 9.12 x 5.63
1.35 ratio
Depth: 61.7%
Table: 58%
Crown: 15%
Pavilion: 42.5%
Excellent polish and symmetry
IGI graded
Here is the lab certificate: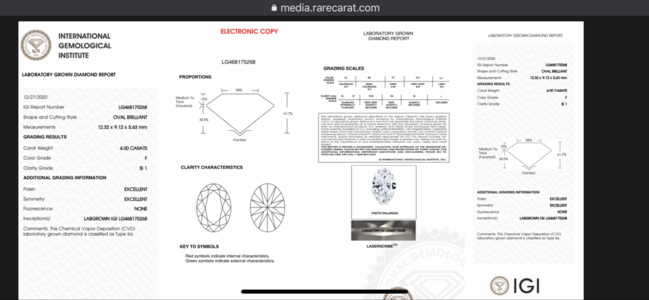 Here is the video:
Thoughts?
Last edited: