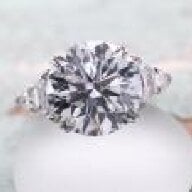 Joined

Sep 18, 2015
Messages

165
Little sis was shown the following pear diamond (3.00 H SI1, GIA) today. I'll post a photo in a moment.
http://www.gia.edu/cs/Satellite?rep...ename=GIA/Dispatcher&c=Page&cid=1355954554547
My reservations are the Fair symmetry, the 50.6% depth, and the inclusions which include a chip. I can't read plots very well - is that massive green indentation the chip?
What does she need to worry about with a very shallow diamond? She thought it looked great (although only saw it in office lighting) and liked that it had almost no bow tie. Any concerns beyond pure appearance?
My instincts are to tell her to run, but I'm hoping for some advice that's a little more concrete. Any help would be much appreciated!
Oh - price with rose gold solitaire setting was $30,500. (We are trying to find out the breakdown between stone and setting but don't have it yet.)
THANK YOU!!!