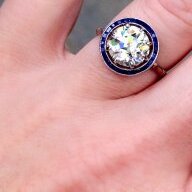 Joined

Oct 1, 2003
Messages

52
A couple of months ago I finally, finally found the wedding band I want after over two years of trying on what seemed like a hundred bands both antique and modern. The Tiffany Metro eternity band with rose-cut diamonds was perfect (well, it was white gold and I'd rather have had platinum, but it looked so great that I wasn't going to mind that). After I'd finally found my dream ring, my husband wanted to wait a couple months to get it for our anniversary. No problem, said the SA.
Wrong. Sometime in the couple months that have passed since we found the ring, Tiffany summarily discontinued it. The truly infuriating part-- and this has put me off shopping with them ever in the future-- is that they took special pains to emphasize in their customer service email to me that even if the ring is still in any of their resale stores they won't sell it to me. So they... what? Have them all sent back from the stores and boil them down, because that's better than making a customer happy and earning future business?

Anyway, I'm hoping this cloud will have a silver lining: maybe I can get my ring made better than a Tiffany ring anyway, and in platinum instead of gold to boot. I really did love the proportions of the piece, however, and am looking for someone who can do a really great job with this kind of style. PSers suggestions would be very welcome-- I'm out of the loop on the good custom jewelers....
Thank you!