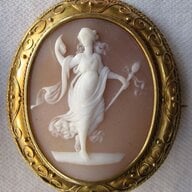 Joined

Apr 17, 2002
Messages

3,995
I''m loving everybody''s pearls--so glad the mods gave us this forum!!

Anyway, I was wondering about having pearls--or other beadlike jewels--restrung. I have a string of pearls that my Dad gave me back when I was in college, a zillion years ago. I only wear it two or three times a year, if that, but it''s been enough years that it might be time to have it restrung. I also have some other necklaces that could use restringing: a string of antique jet, a crystal and chrysoprase necklace, a jade necklace, a string of amethyst beads.

Where should I take the to have them restrung? Is this something that any jeweler can do? Are some better than others? Are some more expensive than others? Is it something I could learn to do myself? (I''m fairly dextrous, but I''m no Michaelangelo.)

Any advice is welcome.

Thanks, everybody.