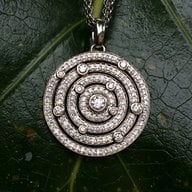 Joined

Dec 9, 2008
Messages

2,260
Ok, I have saved up my pennys over the last 6 months or so to finally get myself some nice diamond earrings (YAY!). I've been feeling the money burning a hole in my pocket for the last week and really want to make a purchase and feel the reward for my hard saving.

However, since I started saving I gotten engaged and now want some nice earrings for my wedding as well as everyday.

What would you do? Go half and half and buy some acceptable size studs or hoops for everyday and some small dangles for the wedding and evening wear? Would you put it all into the everyday earrings and get the biggest and best diamonds you can afford now and just wear those to the wedding- not dangly but very practical. Or put the lot into some fab chandelier earrings because screw it, it's the best excuse you'll ever get for such a pretty frivolous purchase. Other? Like getting the studs and save up just a little more to make some removable dangles? Brillant ideas welcome!