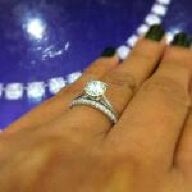 Joined

Feb 27, 2016
Messages

12
Hi, today one of my local store lady found this stone from international seller which looks great to me from photos and videos.
I was looking for sides of diamond eye clean or whitish inclusions only. She did and excellent job and found me exactly what i was looking for.
Its a .87ct, F, SI1
Measurement looks fine
HCA score1
3ex
Only issue is its strong fluoro.
Though she said that
"My gemologist overseas has confirmed it is a beautiful diamond with lots of sparkle!
I can confirm the diamond I sourced is 100% eye clean from face up, it is a beautiful diamond.
There is a tiny white inclusion slightly visible from the sides, however very small! I am just getting an image from the side view for you.
The diamond is beautiful with lots of fire and whiteness, the diamond is a beautiful size."
Do you guys think it could be hazy/cloudy/ milky?
What should I expext in sunlight?
I am happy if it gives a blue tinge in sunlight, i may infact love it but i dont what it to look hazy in sunlight or in sunshed.
Can you guys predict that from the photos and videos?
This is a link of the video:
http://103.19.133.108/hd.aspx?Stoneid=8815500268&log=dolchess