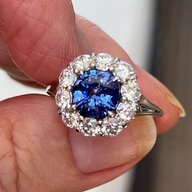 Joined

Aug 18, 2013
Messages

9,331
I've worked with both. I didn't enjoy my experience with SK, but, in his defense, he was in the process of relocating his business and was (literally!) a tad all over the shop, so to speak.

But - more importantly - I was very clear on what I wanted - and I didn't get it. When I tried to sort it out, the responses were rude. Just plain rude. I ended up having the ring remade in a different style...by DKJ. It's the one in my avatar. I can't fault it.

All DKJ's rings are either hand pieced (like the pair I am currently having made) from cast pieces, or significantly hand finished. I've had the most minute prongs I've ever had from DKJ and from Scholdt - both cast and hand finished - so that particular feature of a piece isn't an issue for me.

I love Leon's work (and have worked with him), but he definitely prefers working with his own stones. Ditto Victor, I believe.

If you decide to go with DKJ and don't want to be too hands on for the design process - tell them. Amy, who is a designer, is very competent and the design you're considering is not difficult.

Good luck!

ETA. Just saw you've decided to go with Leon. His designs are glorious. Wishing you well with your new piece!