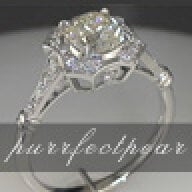 Joined

Mar 31, 2008
Messages

4,079
So we started to threadjack the other topic when we got to discussing shallow step cut diamonds.

Diagem, Storm and RockDiamond mentioned that you could get a gorgeous looking step cut (we happened to be talking about EC, but I''m guessing it would be true for Asscher?) diamond at 50% depth.

I did a little net research and found sites that gave generally accepted depths for EC no lower than low 60''s and only one that said you could go as low as 53%. Then I looked through at least a hundred virtual inventory spec dimensions and the lowest EC I found was higher than 60%. I found nothing in the 50''s at all, much less 50%.

Here''s the part I don''t understand;

If a 50% depth EC can produce a sweet diamond, and a 50% depth will obviously produce a diamond that at 1 ct. will probably have the spread of close to 1.5 ct., then why are cutters routinely cutting to 65% to 68% average? Why not cut more shallow diamonds? Wouldn''t consumers prefer to buy a diamond that looked larger?

Karl can you model one at 50% so I can see how that works?