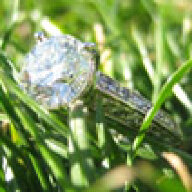 Joined

Feb 20, 2009
Messages

63
Hi...I''m looking at a diamond and I''m kinda confused by this steep/deep debate. I read that there should be concern with Pavilion Angles at 41.0. This diamond is at 41.0.

1. To confirm, steep/deeps are to be avoided because they exhibit light leakage, correct? Is there anything else?

2. I don''t think this is a steep/deep, but it is close to a steep/deep?

3. What dimensions would have to change to make it a steep/deep?

Off AGS report
Table - 55.2
Depth 61.4
Crown Angle - 34
Pav Angle - 41.0
Culet - Pointed
Crown - 15.2%
Pav - 43.3%

Bonus Question: Girdle - 1.4% to 3.7%
Is that too much variance in the girdle?

Thanks all!