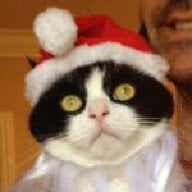 Joined

Oct 7, 2004
Messages

5,239
I love these...
http://cgi.ebay.com/ws/eBayISAPI.dll?ViewItem&item=330586596940&ssPageName=STRK:MESINDXX:IT
but they're obviously very expensive and i'm not Liz Taylor.
So i got these tsavorites from Tan, and i have two small emerald cut clear gems i plan on putting on top. They will have plain baskets.
Should i make the tsavorite into dangles so i can switch out the top easier?
eta: The color is almost identical to the video screenshot, and not so much the frontal shot. The size is about 9x6mm.