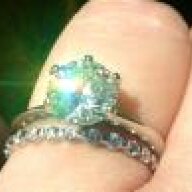 Joined

Jan 22, 2015
Messages

252
I am so happy to be able to add to the pearl forum. I actually never liked pearls before until pricescope. I always thought pearls were dull with cream and no overtones at all to keep my eye focus. Then I found pricescope and my eyes opened up to the beautiful, fascinating pearls presented on this site. I showed my DH pictures and he agreed they are beautiful and very fashionable for daily to evening wear. I added types to a wish list I have and decided I wanted to order from pearl paradise because I am newbie with pearls and the whole process and website is so easy. Customer service were always nice when I phoned in my orders because again I am new to it and was worried with skin tones and overtones. Then came pearl paradise white south sea sale; I thought this is it, I am going to get my first pearls!! I knew my pearl stud size after getting faux pearls to try per suggested by jambalaya here too. Fantastic suggestion btw. I ordered white south sea pearl studs with silver overtone for my fair/olive skin and 11-12mm in size. Then I called back because realized if I am going to get matching pearl pendant might as well now since they are having sale and then they can match overtones. Yes I can be kind of specific with details and my kids are all like that too lol. My DH said good idea and so I placed order for 12-13mm pearl pendant part of desire collection. The diamonds are very bright but they are tiny; however, definitely showcases the pearl.
The studs are amazing love them. Pearl paradise were so kind and gave two types of backing. Love the disk style absolutely no drooping for me. Both Pendant and studs have very high lustour IMHO. Both are perfect round also incase someone was wondering that too. I am new so do these look good for luster and I think they have silver overtone sorry about pics plus my walls are buff yellow.
*haha so funny story kind of. my husband has the brand new macbook in korea. I have older electronics at home here. I have my old iMac, I need to replace pretty soon, now I have to text my photos in iMessage then pull them out. I thought I resized them, but guess not or didn't work. Love suggestions on this little problem.