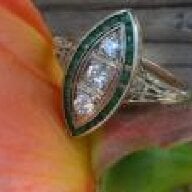 Joined

Aug 5, 2010
Messages

12,771
I am seeking photos and ideas for a series of stacking rings I am making for a dear, dear friend. I don't normally make rings for others, but she has helped me through some very difficult times - with no judgement - with my older teenage son. She is always there for me.

So over the past few months, I have collected a number of 4 - 7mm rb unheated blue sapphires, purple spinels, greenish blue and green tourmalines, rubellites, etc. I figured that her two boys and her husband can each pick one stone, and then I would have Daniel M. set them. This is what I know: 1) she has small fingers; 2) she likes white gold and silver; 3) she likes understated not blingy; and 4) she doesn't want anything that will get stuck when she tries to put her hands in the pockets of her pants. I was hoping to have three simple rings made that somehow fit together, so that she could wear them together as if its one wider band with three stones on it. I have been inspired by the colors of burberrygirl's (I think?) stacking rings, but would obviously want smaller, more delicate rings because the stones are much smaller. I'm also thinking that since the cutting on all the stones is quite good, that I would want them prong set.

The stones are currently with my friend, so she and her boys can pick out the ones they want. When I get them back, I'll try and take pictures.

So, without further ado, please share your ideas and photos. Thanks so much.