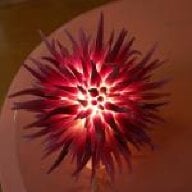 Joined

Jun 21, 2011
Messages

682
I have been lurking ever since BF took me to look at rings last month

and I see that most of you on PS discuss diamonds purchased online, but I have a question about a diamond I saw at Helzberg that I don't really feel like has been discussed at length on PS. Helzberg has a diamond masterpiece collection, which are branded(?) hearts and arrows diamonds that come in cut-cornered square and round. I read that these diamonds are usually overpriced for the clarity and color and are not necessarily true H&A as advertised. Websites like
GOG
provide H&A pictures, but Helzberg does not
but Helzberg does offer 12 months financing at 0%, which BF would need to get a ring at this price. We also like the fact that we saw the diamond in person and the store is 5 minutes away from home for cleaning and what not.
GOG
is like a 9 hour drive away.
I have always thought of myself as a square diamond kind of girl and I love the fact that the square H&A cut sparkles like a round. The diamond I am in love with at Helzberg is the square H&A, AGS graded, ideal cut Polish - 0, Symmetry - 0, Color E, SI1 (eye clean) at 0.73 carat. I did not get the AGS # from them as when I went to the store I knew a lot less then I do now from all I read on PS after the fact! But that said it's possible I may be off on the specs (if I am it could be that the carat is 0.72 or 0.74, but I'm positive that the color was E and that the clarity was not worse than SI1)....Anyway the specs are better than what you get if you buy online as the carat weight could range from 0.71-0.79 and they say color G or H and SI1. I love the fact that the diamond is almost white and it was definitely eye clean.
This is the Helzberg ring $4999:
http://www.helzberg.com/product/3-4ct+tw+diamond+engagement+ring+1761898.do?keyword=mondrian&sortby=newArrivals
GOG
has a Princess of Hearts that is similar $4012 + x-prong 18K setting which IDK the cost:
http://www.goodoldgold.com/diamond/8365/
I don't know how much an 18K x-prong setting is at
GOG
, but the prices for both rings are within a couple hundred dollars is my guess
That said, my question is that does anyone know if Helzberg has well cut
optical symmetry
? Can I trust that it would be a true H&A like the advertisement or do you think I am running the risk of it not being true H&A? Please note it is NOT the princess cut that they are having a lawsuit over. I think they put a princess cut diamond in the masterpiece set and someone else confused it with H&A, but the one I looked at was definitely H&A cut.
Regardless, the diamond is VERY beautiful. I would love it no matter what, even if we overpaid for something that is not true H&A. I'm just wondering if the PS'rs think it's worth the money if we are running the risk that the optical symmetry is not that good. I am sure that BF has already purchased the Helzberg diamond, but we have 60 days from purchase to take it back if we think that we made a bad choice. I have talked to BF about the H&A not necessarily being optically symmetrical, but he is happy with his purchase, so it's possible he may not even be open to buying elsewhere even if I am advised that the price is not worth it. He is so set on me being surprised and not seeing the ring until he proposes that he wants me to stop obsessing and he won't give me the AGS# haha

. I'm finding it hard to stop obsessing until it happens
From the specs and comparing price at
GOG
it seems like we did okay, but I am worried. If anyone has information can you please help! Thank you!!!!