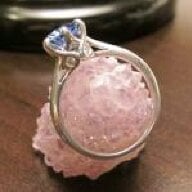 Joined

Jun 5, 2009
Messages

973
... unfortunately I have a really hard time envisioning different metal colors with it.
I would really like to set it in a bezel bridge type design, like this
http://www.etsy.com/listing/75418285/reserved-for-chasiu?ref=af_you_favitem
the spinel in question is 6.3mm round, and I'd say it usually has a pink/peachy-pink color to it. I asked for a quote for an all silver design, as well as one for silver band and rose gold bezel like the one pictured. I just can't seem to picture it in my mind and that makes me a bit nervous. I'd be a little sad if I made my very pretty spinel look a little less pretty than it could have been
any suggestions would be greatly appreciated!