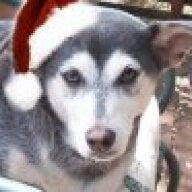 Joined

Nov 12, 2004
Messages

4,255
Here I am...confessing my sins...
Recently I took some old unwanted jewelry (mostly from the '70s) to an estate dealer in San Francisco.
I was so proud of myself!
I thought I was going to get out of there having
received
a check rather than having
written
one! (That would have been a 'first' for me LOL)
Soooo, we're finishing up our business and he starts to pull out a tray of rings. I protest: "No! I don't need or want any more rings!" (Sorta like an alcoholic being handed a tray of martinis...

)
Mid-protest, I spot this: A flame-red spinel, mounted in its original delicate Deco mounting.
I instantly caved. Spinel is a gemstone that's been missing in my collection and that I've been coveting. To find a nice one in an antique was too much for me. I'm a sick woman.
Here are pics: They're not the greatest..but you can get an idea. The stone does have some extinction, but is brilliant (especially in indoor light). Color: Fire Engine Red with slight orange undertone. Carat weight: I don't remember!!!

(I'll know when the appraisal comes in the mail...)