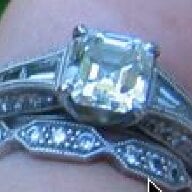 Joined

Jul 27, 2005
Messages

11,534
Wandered into Tiffany''s this weekend to see about getting a longer chain for a pendant I have and spotted the most beautiful necklace on one of the sales associates: A LUCIDA in a thin bezel, kind of DBY style. *faint*
Oh it was so amazing!!!!!!!!!!!!!!!!!!
I''d guess hers was .75-ish? Maybe even smaller but it sparkled like KRAZZZEEE and had so much more OOOMPH to my eye & tastes than a round.
Went over to the showcases to check it out but the only one they had on display was a 2-3ct ... funnily I didn''t like it in that size as much (not to mention - that''s NOT a LIKELY size for me

)
Does anyone else have this pendant??? I already emailed Signed Pieces & made a "wish list" request if one ever shows up there. I am OBSESSED!!!!!!!
Ya know ... my 40th b-day is in Sept