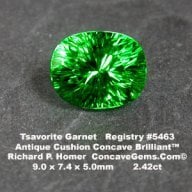 Joined

May 14, 2003
Messages

287
I am unsure of how many people read my previous post asking about gem selection for my sister and wife...but I have decided what to purchase and wanted to show you guys the photos.
First off I wanted to thank three people in particular who helped explain some great things about gems.
The first is Maurice, aka MJO, who spent alot of time answering my questions, and without him I wouldn't have been as informed. He is a great guy..with amazing knowledge of gems, and quite a collection.
The person I did purchase the stones from was Richard Homer, as quite a few of you have. The cuts on these stones, as well as color and size, fit these special gifts perfectly. Richard has been very busy, yet made time for me...and I truly appreciate it. This Christmas will have some emptiness, but I am hoping the bond created between my wife and sister with my mothers birthstone, and idea of a fresh start with something so beautiful is something that is priceless for me. Thank you.
Alright...on to the stones. I appreciate any comments or observations.
-G