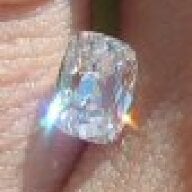 Joined

May 23, 2006
Messages

367
Hello all. I was just wondering what range is good for the specs of a cushion cut? I have been browsing online and am getting overwhelmed! I know that things like color and clarity are pretty much a personal choice, but it is the other specs that have my head spinning!
I have browsed the gorgeous cushion cuts here

and have written down the specs but I figured it would be more beneficial to just ask. Thanks in advance!