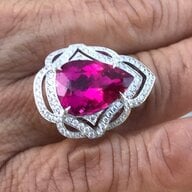 Joined

Dec 26, 2017
Messages

1,575
DW and I have had an unrequited green jadeite urge for almost three years now, ever since we started reading this thread.
@ChaiK
it's all your fault.
It has been so difficult to score PS worthy jade in the US market. 95% of the material is not certed and almost certainly treated, whilst the remaining 5% Type A is usually poor quality and way over priced.
However on a trip to the Coast this weekend we may have gotten lucky. My hours of absorbing all the jade wisdom here on PS might have finally paid off.
We usually take a few moments to check out the local jewelers on our holiday trips, but hardly ever find anything. This time we found a family jeweler who actually had a small display of jadeite items. As we got talking it turned out he and his wife were both jadeite fans and very knowledgeable. After we spent some time looking at, and discussing the items on display he told us he had just got in a piece of Imperial jadeite from a lapidary friend of his. It had come out of an estate a couple of years ago and had a Type A GIA cert. He was in the process of designing a setting for it, but if we were interested would be willing to sell it loose. It turned out we were very interested.
It may not be quite up to the standard of some of the fabulous jadeite cabochons you guys have, but by American standards it seems pretty good. It's only 3.12ct and doesn't have a high dome, but it has a gorgeous green glow, and at 11.8x8.7x3.5 it has a terrific spread.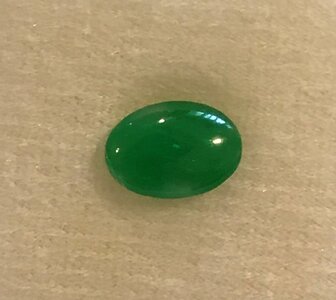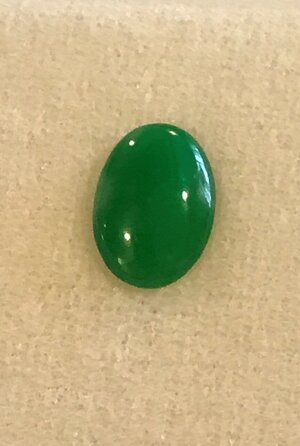 Here it is already starting to make friends in its new family.
The stone will soon go to DKJ to be set into a ring, and DW would very much appreciate setting ideas from our jadeite experts.

Last edited: