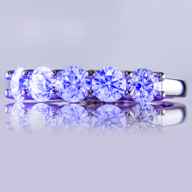 Joined

Sep 16, 2015
Messages

78
Two seemingly-reputable appraisers in the Boston area offered to help me get diamonds at prices not available to the consumer. It seems like there are many positives to taking this approach, but I want to be careful. Is it a good approach? What should I do?
One uses a connection at a wholesaler. He would take a $1000 flat fee for sourcing the diamond in addition to an appraisal fee for the chosen item, and I would pay the wholesaler directly. The other appraiser said he has access to diamonds not available to the general public and charges $90/half-hour for showing me the diamonds and appraising (I'm not sure who I would pay for the diamond).
Both appraisers claim to be independent and reference working for the local government consumer protection bureau, law enforcement, and celebrities.
On the positive side:
I provide the specifications and price that I'm looking for to the appraiser, and they get diamonds meeting my criteria. This seems to be faster/easier than trawling through the various online sites for hours and hours.
They have tools beyond what I can find online in order to analyze/reject the diamond before even showing it to me. For example, doing an ASET analysis from various angles, not just top/bottom.
They can provide help with the human aspect of judging the light performance.
They can provide value analysis on whether the price is a reasonable price or not.
It still seems objective/independent because they do not mention getting kickbacks for selling a particular vendor's diamonds. It sounds like the second appraiser is brokering rather than selling. The first appraiser, on the other hand, seems to be essentially retailing at a lower markup than B&M or online.
Both offered to also receive diamonds from online/retailers and analyze the diamonds and provide recommendations on the value.
On the negative side, it seems shady with potentially conflicting interests.