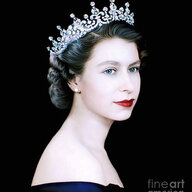 Joined

Oct 24, 2012
Messages

4,740
@Alex T

-

Have I ever told you how much I love your diamond and pearl ring? I LOVE that ring! It's so perfectly proportioned and balanced. Such an elegant piece!

And few more shots of your new...amethyst?...ring wouldn't kill any of us, either!!
Thank you, lovely lady! Yes, the pearl & OEC ring is definitely something special. I don't wear it often as the basket is very thin, but when I do I can't stop looking at it. Here are some more pictures of my beautiful amethyst.