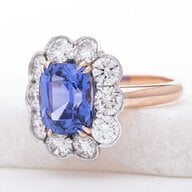 Joined

Jan 9, 2006
Messages

6,556
Is anyone else doing this? If so what are your Something Old/New/Borrowed/Blue, if anyone doesn''t mind sharing? I''d love to know what you''ve all got for the big day! Here''s mine:
Something
Old:
A brooch, which is two tiny individual 9 carat gold bluebirds, joined by a gold chain. Every female in mum''s side of the family who has been married, for now four generations (my cousin and I are the fourth generation) has worn this to her wedding, so it''s about 100 years old or so. My mum wore them in the front centre of the neckline of her dress. I''m planning to but then up the top of my veil, just peeking out from under my hair at the back.
Something New:
The wedding dress!

Something Borrowed/Something Blue:
I kinda cheated on this one, my borrowed and blue are the same thing

Mum wore a blue garter on her wedding day which I plan to wear. It was plain blue but when I asked mum if I could wear it she glammed it up with a pattern made out of swarovski crystals, it''s really cute!
Anyone else?